Workshop Reflection March 2019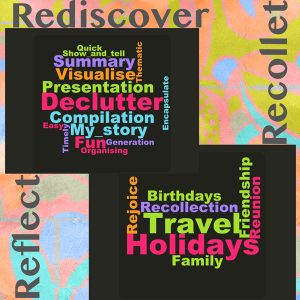 The two workshops in collaboration with NUS Society and WINGS had just been completed in March:
(1) Key Highlights of Workshop at NUSS Mar 19
2) Key Highlights of Workshop at WINGS Mar 19
Kowling and I enjoyed the interaction, exchange and sharing with the students. Now that I had conducted more classes and got to hear what motivated the participants, it affirms my beliefs that I am addressing the real needs as follows:
1) Decluttering
It is more than just freeing up space on the mobile phone.
It is interesting how globalisation has affected many of the seniors where their children are living oversea. What do they do with the many pictures they received from their loved ones overseas? They like to keep track of the growth of their grandchildren.
Some of the seniors had already many physical albums. They want to pass the memories to their children who are not interested. How can they share their life stories in a more interesting form with their children often?
When come to downsizing (moving to a smaller house), what do we do with the physical albums?
The above challenges can well be addressed by digitalising the content and selectively creating electronic scrapbooks that can last and share with loved ones.
2) A Special Gift
A gift is special because of the experience we create.
How often do we find it challenging to buy presents to give to our loved ones? When was the last time we made the presents with our own hands? Whether it is about the recording of a special event, a celebration of life or a reflection on a milestone in life. The electronic scrapbook with a compilation of photos can be a special gift for loved ones. It can be in soft copy to be shared via social media or printed out as a photo book. The present is priceless and unique and will always remain special.
3) An Episode of Life
Don't let yesterday consumes too much of today.
What do we do with the many photos and videos captured during our travel trips and special events? Very often, one may want to compile the photos and share them with the travel companions on the trip. An electronic scrapbook or slideshow will be a fantastic way to reminisce about the good memories.
4) My Life Stories
Some said life is like a canvas; how would you describe yours?
Everyone has their life stories. However, in modern city living, we often complain that in our haste, we did not get to write down our thoughts and record our stories. Some said they will wait till they retire to work on it.  By creating a collage and electronic scrapbook, the activity helps us to slow down and deliberate over what is worth recording. As we go about sorting out what we had and deciding on the content, it actually helps us to rediscover, recollect and reflect. One learner spoke about she liked to work on 'My story in His story'. Another lady planned to work on the mother-in-law's story as a gift for her 80th birthday.  Everyone has a life story worth celebrating.
In summary, act now if you find the above motivates and resonates with you. Start a journal leveraging the concept and tools of electronic scrapbooks. Take comfort that you will develop this bit by bit. What you are doing is planting a seed today so that it will grow into a tree for enjoyment by you and your loved ones in years to come.