Tell Your Story and Leave a Legacy with eScrapbook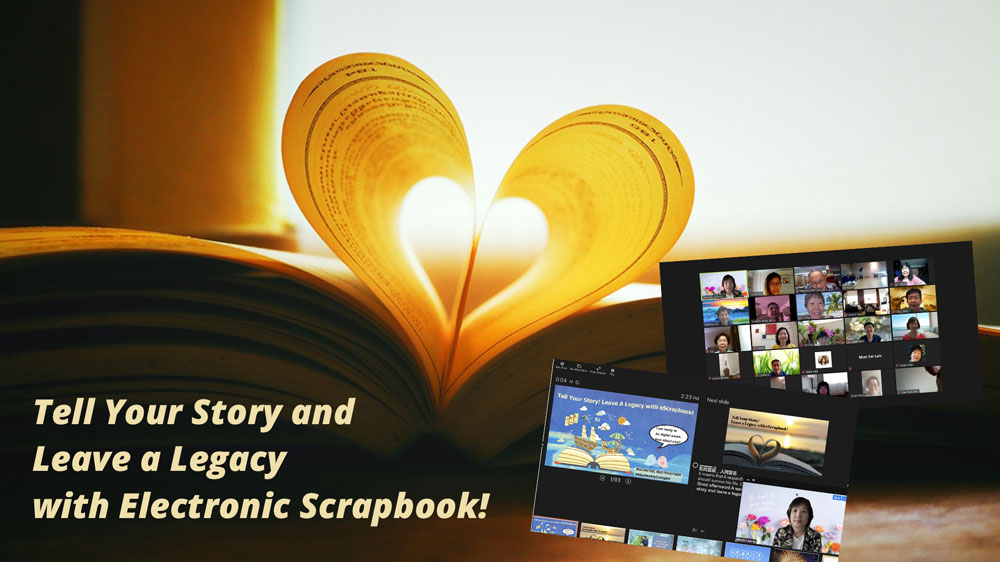 Background
I felt honoured to present on the topic 'Tell your story and leave a legacy with eScrapbook' to share my experience with some 70 participants at the NUS Senior Alumni Tea and Chat session. I was eager to put my teaching experience in recent years into good use. (Please refer to blogs Webinar Series-Nourishing your Soul, Learners' Reflection of Tell Your Story with eScrapbook Workshop and Legacy of Life Stories-Mission Impossible?)
Introduction
'And in the end, it's not the years in your life that count; it's the life in your years.' said Abraham Lincoln. How do you see your life as you look back? Writing your story is an effective way to reflect and boost your self-awareness.
If we look deeper, there are two components to the title:
1) Tell your story to leave a legacy that focuses on celebrating life and heritage and reflecting on a life worth living.
2) Using an electronic scrapbook leverages digital media and platforms to extend the reach of the story to a wider audience. Scrapbooking can be a therapeutic activity allowing you to explore the creative side and the mystery of art.
How do we go about doing this?
There are four easy steps to this process:
Step 1: Get organised and declutter your photos on your phone and album.
Step 2: Pay attention to your emotion and thoughts triggered by the images of your photos as you recall the moments. Next, create a storyboard once decided on the title, the key messages and media to use for the video slideshow.
Step 3: Use a mobile app to assemble mixed media consisting of photos, collages, music and text into a video slideshow.
Step 4: Publish and share your video slideshow with your loved ones.
Case Studies Illustration
To inspire the audience, I showcased the works of my learners around the 3 case studies:
1) Relive the moments–The slideshow featured the highlights of a holiday trip, capturing memories of precious moments.
2) Improve intergenerational bonding–Using the principle of less is more, a grandparent could reduce 120 photos to a 17-collage video slideshow. 'I no longer have to go through the photos one by one. Now they have no excuse for falling asleep!'
3) Celebrate life–To celebrate your 80th birthday by featuring the love of music as an integral part of the family, work and play.
Reaching beyond self to someone
Besides my learners' projects, I also shared ideas based on my visual storytelling projects.
1) Promote healthy living–To support the practice and learning of tai chi qigong 18 movements for the English-speaking members. I created a video comprising an easy-to-follow synchronised front and back view of the physical movements. Moreover, each movement was accompanied by the hanyu pinyin pronunciation in Chinese and an English translation.
2) Guest of honour speech at the graduation ceremony for the class of 2019-In a brief video that followed the speech, I shared our love, words of advice, and insights of the class of 1979 with the primary six graduating class of 2019. (See the blog I Got to Walk the Talk)
Visual storytelling can empower the under-represented, disadvantaged and vulnerable community by giving voice to the voiceless. Besides, it enables us to do more for the community and connect to something bigger than ourselves.
Summary
Would you like to take the first step and learn how to create an electronic scrapbook? Doing it yourself will result in a more unique, authentic and meaningful experience. Only by going through the creative process, you realise how wonderful this can be.
For information related to the schedule of upcoming classes
Just sign up for a class at any of the organisations, NUSS, WINGS, or Family Central. These are National Silver Academy (NSA) sponsored courses. Most of them are eligible for SkillsFuture credit. Please refer here for the course schedule.