Get Started in Recreation Slideshow Making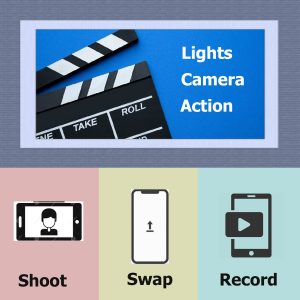 Lights, camera, action! That's traditional film making. When comes to recreation slideshow making, it is easy, just shoot, swap, record!
My first attempt in digital video was in 2008. It was a mere 5 minutes video created using tools that came with the PC. It was my first experience to create training video with PowerPoint slide where I was presenting (a feature called picture in picture).
Fast forward to 2018, ten years later, I find myself fall in love with recreation video slideshow creation. I am not talking about serious film making with creation of scene, special effects filming and editing. I am talking about using rich media that we captured by the mobile, such as pictures, videos and audios, leveraging on technology to string them together. Perhaps we already have seen how Facebook, iPhone Photos and Google Photos have 'pushed' slideshow with pictures grouped by dates or location to us, ever so often.
The latest craze is to make use of devices such as GoPro action camera and camera drone to capture exciting videos. You don't need to be a technical wizard with big budget in order to create great video slideshow. Our class isn't about learning features and functions of software and the menus, shortcuts and buttons. It's about creating artistic slideshow, working with rich medias like pictures, collages, videos, music, etc. Instead of letting technology do things for us, let's take charge and do things with technology. You are the director behind creativity and the one who tells the story and completing the moving 'jigsaw'! This is the modern democratisation of technology that empowers everybody with a smart phone.
The arts of the possible is only limited by imagination. We can create collages based on pictures of similar themes. We can compose a song (using GarageBand application) and accompanying the song lyrics (as caption). We can interlace a video with pictures and quotation. The ease to share via social media, meaningful url, QRcode, etc. all make it fun for us to keep our loved ones and potential global audience entertained with our video slideshows.
With the evolvement of the mobile technology and ease of generation of rich media content, the sky is the limit. Seize this opportunity to create your very own video slideshow! Now or never!