Learn, Unlearn and Relearn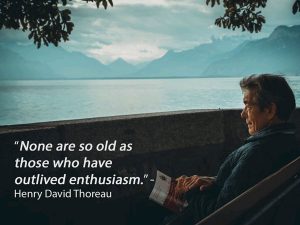 It is said that sixty is the new forty in the new age of ageing. Longer, healthier lives mean we now hit middle-age later. This argument has surfaced for quite a number of years now and is gaining acceptance. This is illustrated with the greater longevity of the Hollywood film stars and evergreen singers and well-known politician Dr. Mahathir returns to power in his sprightly 90s. We are definitely shifting the definition of 'old age' upwards. People are working at least ten years more and feeling engaged, active and productive. I noticed that as people exercise more, a new breed of elderly actually enjoy better health in their 60s compared to earlier (where they were leading a sedentary life style).
Recently as I taught my first class for Seniors for Smart Nation program (Note[1]) at the People's Association, I witnessed this new breed of seniors. The learners are self-motivated, working part-time or volunteering. I would say they probably belong to the Merdeka generation (Note [2]).
I noticed that the seniors in my class have high-end smart phones (not the one with big keypad for the elderly). They are conversant with Google Mail and WhatsApp to connect with the others. They are well travelled and use their phones extensively for photography and videography. While they are eager to free up storage of their phones with the cloud storage, they are also concerned about internet security. They are well exposed to the technology indeed!
While we feel younger physically, it is important that mentally and socially we are on par. In this technological age. It means maintaining a fine balance between serenity and technology. To achieve this, a curious, inquisitive and a growing mindset are important.
'The illiterate of the 21st century will not be those who cannot read and write, but those who cannot learn, unlearn, and relearn.' quote by Alvin Toffler. Singapore is a city of learning, a city of possibilities and city of opportunities. I am happy to be able to contribute to their journeys of learning, unlearning and relearning so as to grow old gracefully, actively and joyfully.
[1] The Seniors for Smart Nation is a program that provides a series of IT courses that help senior to be Smart Nation ready.
[2] Merdeka generation is defined as people born in the 1950s, a generation that lived with uncertainties in Singapore when Singapore underwent a tumultuous period that led to its independence in 1965 and the early nation-building years after that. (Source: Today 3 Mar 19. https://www.todayonline.com/singapore/born-1950s-merdeka-generation-lived-uncertainties-worked-singapores-early-industries).