Leapfrogging from PC to Mobile Platform for Electronic Scrapbooking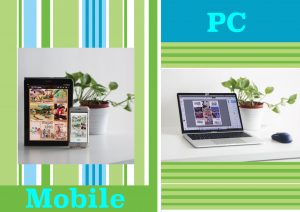 Collage-making on mobile platform took off around 2015 as a result of the perfect storm contributed by the pervasiveness of 4G infrastructure, mobile-native application and social media. What it means is that novice needs not be conversant on the PC platform and bogged down with the complexity of file system and operating system environment anymore.
Coming from the traditional environment of using PC digital tools for Electronic Scrapbook, I find this welcoming and exciting. However, is my skills and experience just become obsoleted and redundant? Where is my value add in the new mobile era?
This propelled me to test out and evaluate a myriad of collage-making and slideshow mobile applications on both the iOS and Android platforms since 2017. I see a ray a hope for senior learners or less technical savvy adults. In my recent class, I employed only mobile digital tools where the age of the learners is between 55 to 80 years old. I am delighted that the learners found the tools fun, enjoyable and intuitive. In fact, every one learned the basics quickly and became quite an expert in no time! They found the process enjoyable as they are quickly rewarded by the fruit of their labour! Instead of technical details, I focused on guiding, coaching and facilitating the class based on composition, theme, and the arts of digital story-telling.
We see the new trend of technologies (such as big data analytics, artificial intelligence and machine learning) enable new products and services to manage the loads of media (photos, videos, music recording, etc.) and simplify search, categorization and organization with visual recognition of persons and things. It automates backup of our media, compilation of digital albums of significant events and enables sharing via access control. Is it simplifying life? There are always two-sides to the same coin, i.e. convenience versus control and we have to understand the trade-off.
In conclusion, technology disruption is here to stay. As a community, the common purpose such as capturing our good memories, peace of mind via digital decluttering bring us together as we share, exchange and feedback. Leverage on our uniqueness, experience and new ideas, I look forward to contribute to this community by offering a platform to co-create and collaborate in our self-discovery journey for greater meanings, significance and inner knowing.