Electronic Scrapbook – Why and Why Now?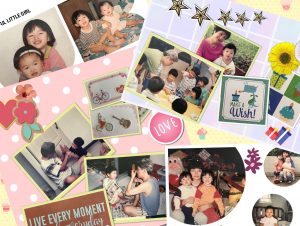 The digital revolution is creeping into our lives in many ways. The Singapore island is well connected with high-speed broadband and well covered with data wireless network with one of the highest internet and mobile phone penetration in the region. The school education system reinforces elearning, IT enrichment workshops to enhance the skills of the students to prepare for the digital lifestyle ahead. As parents, how can we play a supporting role to create meaningful changes that lead to strong bonding and relationship with our technology-savvy children? Besides, we owe it to ourselves to understand how we can leverage the latest and hottest so as to grow gracefully.
The objectives of this blog is to provide mothers the basic knowledge and skill to explore the possibilities in this digital age. There are many different projects we can work on, starting from the digital album and family project. It is tailored towards your needs and you can have different starting points. Once started, you will never look back and you have open the opportunities to share with like-minded people where the experience will be extremely rewarding.