Celebrate My Five Years in Adult Education
Introduction
After 30 years in the corporate, I started my home-based business as a freelance trainer in 2017. I invested the first year in getting me off the ground with professional accreditation. Since then, I have been conducting workshops on storytelling, digital decluttering, and memory preservation. It has been a journey of growth as an entrepreneur, adult educator and technology adopter. My second vocation gives me a sense of purpose and a welcoming space to nurture new connections.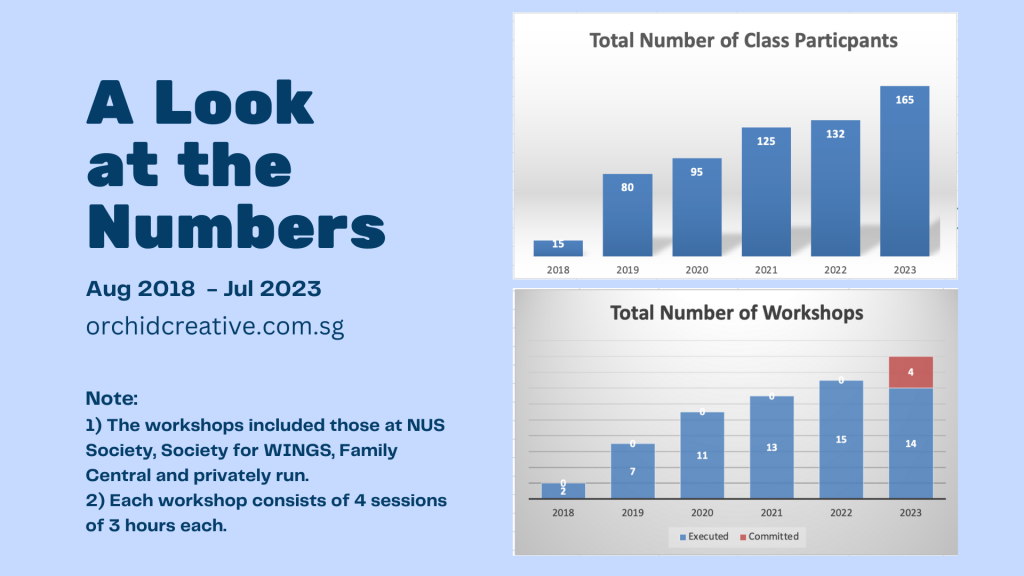 It Started as a Hobby
My passion for scrapbooks and collage-making to reduce clutter and capture memories began in the 1990s. The many years of practice have given me the foundation and flair. Then I employed a hybrid approach, with scrapbook craft tools and Adobe Photoshop. In the last decade, technological innovation and digitalisation have affected the scrapbooking industry. In 2006, digital camera sales surpassed film camera sales for the first time. With the introduction of smartphones in 2008, mobile apps become versatile and powerful and dominate the consumer market. The ease of using digital tools on the smartphone to create an electronic scrapbook makes it an obvious choice for my workshop for mature adults. That allows me to teach many who may not be technologically savvy but own a smartphone. As video editing apps grew pervasive in 2019, I began to include them in my storytelling workshops. I love how video slideshow can forge emotional, engaging and touching moments with the audience.
It is Not Just About the Technology
In my workshop, I do not focus on teaching how to use the mobile tools per ser. My premise is the subject matter of my story, plus the unique angle. The class projects cover topics ranging from family, travel, and celebration to legacy. I believe that each of us comes with unique experiences and perspectives. We learn and draw inspiration from one another. On reflection, I tend to be 'objective-oriented due to my corporate training. To be effective, I focus on a more edutainment style, i.e. learning through fun. Teaching mature adults taught me to embrace a sustainable pace, try out new ideas, and find joy in incremental progress. The reward is seeing the participants become more confident and enjoy the creative journey.
The Bumpy Ride
The COVID-19 pandemic spared nobody when it hit the world. It was a three-year battle with COVID-19 when the nation learned and adapted to live with COVID-19 as an epidemic. When Singapore entered the Circuit Breaker in April 2020, it put a brake on all the in-person workshops. My workshops had moved to a virtual remote setting. The novelty of remote learning did not last because many found the lack of face-to-face coaching too challenging. Onsite workshops restarted with safe distancing and COVID-19 vaccination. In May 2023, the World Health Organization declared the end of emergency status for COVID-19. The economy recovered unevenly, and I breathed a sigh of relief to work towards business as usual again.
The Lessons Learned
I am grateful that teaching has allowed me to find my purpose, nurture my mind in creative pursuit and give back to society. It is a marathon, not a sprint. I am guilty of multi-tasking and letting speed and efficiency run the show. However, teaching is a commitment that requires consistent attention over the long haul.
At any given time, I might work on two to three workshops in different stages: delivery, content enhancement, and development. It takes months to prepare, from curation, research of ideas, and content creation to being ready to market.
Constant reflection based on feedback from my participants has taught me the value of moving slower than my default speed. Now I can focus on quality and practical usefulness to the participants. In my zest, I must remember not to overwhelm the participants. Just in time, just enough and sometimes less is more. The focus should always be human-centric on the participants and make their souls happy.
Conclusion
It took me over five years of teaching practice to leap into the creative territory I once only dreamed about (See the diagram Orchid Creative Workshop Roadmap). I have different workshop offerings to whet the appetite of my participants as they ask for more. I constantly enhance the content to cater to a diverse audience with different educational backgrounds and technology exposure. To date, I have delivered nearly 50 workshops and taught 600 learners (See the diagram Business Scorecard 2018 – 2023). In collaborating with Kowling, I learned the virtue of teamwork. She is like a mirror that enables me to reflect and improve. I am indebted to her for her support during this teaching journey. Finally, I am proud to say that I am grateful to do what I love and love what I do.