A Moment of History for Digitalisation in the World of Learning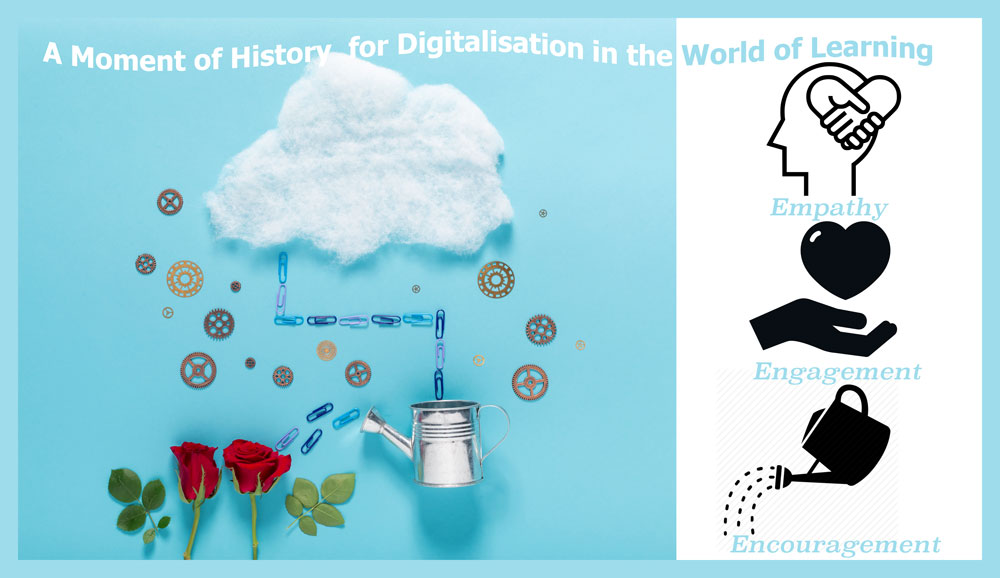 Introduction
Face-to-face workshops were the norm since I started my first class back in Aug 2018. However, the COVID-19 outbreak changed everything. During the 2-month Circuit Breaker period, I piloted two online workshops via Zoom meetings (please see A Meaningful Cause during the Circuit Breaker Period and Webinar Series – Nourishing your Soul). The experience had helped me to pave the way for online class offerings as an alternative to the in-person workshop (Please see eClass at NUSS in July 2020 and eClass at WINGS in July 2020).
Observation
We are entering a moment in history for digitalisation world of learning. There is increasing mainstream acceptance of digitalisation in learning, working and socialising. This acceleration of elearning adoption has become the new normal that is here to stay.
Implications
Since my classes are more IT-centric, it seems natural to assume that it should land itself towards online platform delivery. However, I am sensitive to the fact that I need to adapt to the new delivery approach to offer the best experience for my learners. Below were ways I had explored and shall be enhanced to support the learners to minimise the amount of disruption to learning, communication and collaboration.
Adaptations
1) Empathy
Adults learners bring with them a wealth of experiences that are acknowledged and respected. Many are new to digital learning and take time to adjust. To be more empathetic is to put yourself in their shoes hence I had paid attention to their needs in the following ways:
The small footprint of the mobile phone makes navigation inherently challenging and error-prone. I switched to a different mobile application, which is more user-friendly and easier to navigate.
To gain a good understanding of the profile of the learners and the types of devices early in the class to help pre-empt their technical challenges. Learners were encouraged to have fun and to explore like a child without the fear of failure.
To facilitate the application of knowledge in class with the opportunity to learn at their own pace, an easy to follow a step-to-step guide was provided.
2) Engagement
Although we are physically apart, relationships can still be maintained and strengthened regardless of distance. Using appropriate ice breaker activity, the learners quickly warmed up to each other. Also, some Zoom meeting features were useful in creating more opportunities for spontaneous interaction, expression, and participation of the learners:
The breakout rooms feature in the Zoom meeting helped foster a more intimate personalised exchange in the smaller group. Consequently, learners had become more relaxed as they explored new skills during the skill practice session.
I used the in-meeting chat function in the Zoom meeting to encourage lively conversation and feedback during the learning journey.
The share screen function in the Zoom meeting enabled real-time camera sharing during the demonstration. Screen mirroring of the mobile app on the fly was useful to address any questions that the learners might have.
3) Encouragement
It is often said that learners are more likely to succeed when they feel motivated. How can I encourage a less stressful learning environment where the duration is just right, and our learners need not memorise and find learning more engaging? Perhaps more storytelling, humour and relevance to the learners will be solutions. To achieve these will require lots of rework to rethink and repurpose my online workshops. I had published the course material and screencast (video recording of the device's screen) on my website so that the learners can access the material for review.
Conclusion
The shift to virtual learning to support adult learners in lifelong learning will last beyond the current COVID-19 crisis and represents a fresh way of doing things. We can make a positive difference in digital learning to be more adaptive and inclusive. I am excited at this moment in history to get to impact on the aspirational adult learning space that extends far beyond.